Tag Archives:
fashion
Love from every edge to edge of this dress, and again, the shoes!!!
Photo via BENY&CO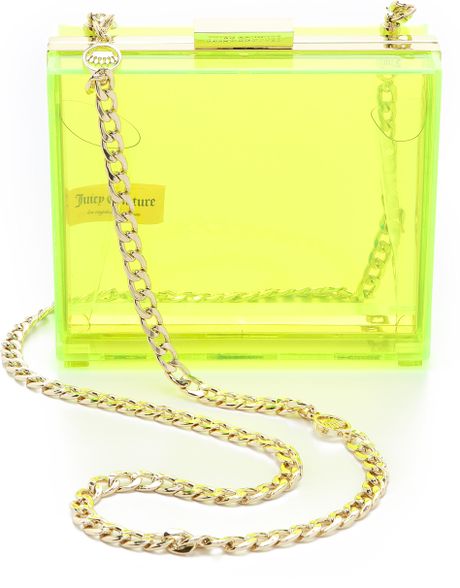 Here is Juicy Couture Yellow Lucite Minaudiere that become the superstar in couple weeks. A lucite clutch feels both retro and futuristic. The edges pop in electric neon, giving depth to the transparent structure, and the chain strap is removable, so its possible The Lucite to be your unique mini clutch too. I wish its still available on my list. But unfortunately, there's already sold out (not excepted in Shopbob). No wonder, she's (Lucite) became The New Fashion Politician Superstar with her transparency. Now, the big quest is, Any store or online store still have this item for available? Reminds one of my readers (and friends) asked me about it, anyone know here? please share your info about this on the comments guys! Your help are so valuable for us here. thanks before.
Love the color combination here, yellow and the shiny dress made her completely playful! And yes! Dr. Martens never fail for the climax of the drama.
Did you remember about my "new in" outfit from People Riots? I decide to modified it a little bit. It's such an unplanned modification on fact, because i just curious about the phosphor ink that i saw when a screen printer apply it to a t-shirt on my workplace. He told me that the ink could be glow in the dark, and even glow(er) if it's had an enough sunbath! Then i have no idea but wanna try on my own tees, yeah i think glow in the dark effect is not too much modification no? Reminds its would be great first branding experience for this site, and yah, it's look like this tees would be my-must-to-wear-tees-on-outdoor-party-or-concert-at-night! However, just like Rihanna said "Shine bright like Diamonds (baby!)"
Summer was already come to my country, and i was like need something to wear in daily hot summer weather. Then what i really need is a new vest, but not regularly vest in general— i mean this Blue Denim Wash Vest from Topman is one of kinda what i've thinking of it. Just imagine, or okay, its may come true that you could wear a denim as a vest in super sweat(y) summer all along day because it was 100% made from cotton. Of Course this Blue cut and sew denim wash vest is a part of the Topman LTD collection(!). Hoooh,.. you're could be mine Topman!
*Bonus Info: Its already Sale on their Indonesia Online Store! or if you're in USA, you could check their online store here.
Baiklah, Iben mencoba menepati janji Iben buat post detail kemeja soft denim yang kemaren Iben pake di post "Weekend Spotlite". Eits! jangan pernah berpikir kalau kemeja denim ini bakalan bikin gerah pas kalian pake di siang bolong waktu kalian asyik nonton konser artis favorit kalian— karena kemeja berbahan soft denim dari Bodies ini benar – benar adem ayem di pakenya, dan yang paling penting, ringan! gak ada kesan berat apalagi nambah volume siluet body kamu. It's such a daily denim you must have darling!
—
Okay, as i promises before, i'll try keeping my promises to post such of detail photos of my soft denim shirt that i have wore on my "Weekend Spotlite" post. At first sight— you may thinking about the denim shirt that makes stifling and felt sweaty. But wait darling, This soft denim shirt from Bodies is pretty unpredictably cooling down our body, of course beside the comfy and super soft material it's definitely best friend for attending our  favorite rockstars concert. Yah! It's also sucha daily denim you must have darling! Me? already purchase!
Soft denim shirt from by Bodies from Southerntrack Store, photos by my self
It's Christmas! I may not celebrate it, but its was many reasons to love Christmas in another way. Especially for me ( or almost for all of us ) that Christmas and New Year Sale is such too yummy to skip! Spending my best time with my best friends is nothing but my best idea to build up my mood and tension in the workplace (rrrgggghhhh)  then thanks God for this nite. How about your Christmas? Hope you all have a lot of happiness with your family and closest relatives. God bless you.
Rere wore: shirt from (online shop, she's forget the name), skinny jeans from Roxy, wedges from Conexion, bag from Thailand street market, glasses from Mocha, watches by Chanel.— Ino wore: shirt from Top Shop, skinny jeans from Rusty, shoes from Converse, watches from Swatch.— Me wore: T-shirt from Karimun Jawa (merchandise!), short from Insider, shoes from (hmm okay, i ask my friend to paint it, detail later guys), bracelet gifted from Reza and Ino detail here.
PS: Sorry about the such bloopers photos at average last =p